My Life With Twins: Tot School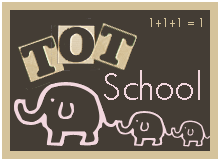 Once upon a time, two or three kids ago, in a different state, I was a homeschool mom. We had a sunny schoolroom with shelves and desks and even some white boards for fun. I spent my entire day with my boys. Every day. And I loved it.
When we moved to North Dakota we decided to enroll our kids in school for a variety of reasons. While I don't regret the decision (much), I still would get wistful for homeschooling. . .especially around the time curriculum catalogs would mail out. And then I would think back on how crazy busy things have been since our move. I think about the relationships I have been able to form through having more freedom in my days, and I think of the really great friends my kids made as well.
However, I still miss teaching my kids. I DO always take advantage of summer and work on some very informal unit studies with the big boys, as well as daily math review and reading tons of books.
At the same time, I feel a little badly for the girls. As the youngest children they sometimes get lost in the shuffle of the big kids, and because they are twins and they DO play so well together, I tend to  not do many intentional activities with them. I do try and take them to library story times, but two active toddlers to one adult in such a stimulating environment is rough, so we don't attend as often as they would like. I'd love to do some sort of Mommy and Me dance or gymnastics classes. . .they are both very active and love to move, but sadly, those classes are designed for one on one, not two on one. . .and our family dynamic is that I fly solo most days (and even most evenings).
So the other night, while I was lamenting the lack of enrichment activities for the toddler twins (as if they NEED them, they don't), I was doing some internet searching and came across this amazing website which described Tot School. And I realized that this was perfect! What I really wanted was some focused time with the girls. Where I could do something totally age appropriate for them, and we could all have fun!
The most fun thing was that implementing "Tot School" in our home was simple! So simple that I read about it late Sunday night, and by 9:30 on Monday morning the girls enjoyed their very first session! I decided to roughly follow the same sequence that Carisa is using with her little girl and documenting on her blog, because then I don't have to be so creative. So, I printed out some coloring sheets (the girls had their first ever coloring session), pulled some ocean themed books from my very stocked home shells and hunted through my old homeschool and crafting stash for some good sensory activities!
Here is what we did!
First, I set the girls into their high chairs in the kitchen and I gave them a Jj coloring page with various J items on it (Jesus, jack in the Box, Jump rope and jellyfish). While they scribbled (Emily ate a crayon as well) I chatted with them about the colors they were using, pointed to the pictures and named them, pointed to the Jj and made the J sound, etc. Now, I don't expect that they will retain any of this information just yet. They are only 17 months old. This was far from a formal lesson, it was a conversation. They really enjoyed making their marks on the paper.
Then I cleared the papers and gave them each a handful of dried rotini pasta on a cookie sheet. They also had a small plastic container. I showed them how to put them one by one into the container. They LOVED it! Tis is great for their fine motor and focusing skills, and since they are never allowed to play with small, choke-able objects, it was a treat to be able to handle small objects under supervision. We repeated this activity today and I added a small silicone ice cube tray to put one piece of pasta in each section. Emily enjoyed the addition, Elizabeth preferred to just use the plastic container. Emily also moved to scooping the pasta up with the cup.
We then moved to the living room floor and had some gross motor play. The girls love dancing to songs, so I pulled out some very old Raffi: Baby Beluga
. (It is kind of fun that the girls can enjoy the same music that their oldest brother enjoyed almost 15 years ago!). I then got out a big Melissa & Doug Floor Puzzle
with the intention of at least one older brother joining us to "help" put it together. Sadly, both brothers that were home chose to play with Lego instead. However, I did sit with the girls and spread out the pieces and talked about the colors and they had fun handling the pieces. This puzzle is so sturdy, I had no concern about the toddlers handling it. We then worked together to put it away.
Then we sat and looked at some ocean themed books, and we read part of one of my favorites, Baby Whales Drink Milk (Let's-Read-and-Find-Out Science 1)
. I pulled a lot of other ocean books, both from our home library and our public library and placed them in a plastic dish bin. The bin is on a low bookshelf and all of the kids will pull from this bin on occasion to read books. I have had this type of book bin for a long time and the little boys will often check it as I rotate the books often.
So, for a first day. . .it went great!
Today we repeated many of the same activities. I introduced markers. Emily enjoyed coloring with it, Elizabeth tried to eat hers, so we'll stick to crayons for her for now. I also had some ocean themed foam stickers from Hobby Lobby, as well as some foam alphabet stickers. The girls liked to play with the stickers, but were disappointed when they actually stuck to the paper! We'll work with more stickers in the future.
I also have plans to make up a nice batch of blue playdoh later this week, once I pick up some cream of tartar. I'm going to take a wild guess that one or both of them will try to eat it!
Overall, I'm so glad that I found Tot School! Yes, I know that I could have come up with all of this on my own, but it is so nice to have a framework to go by, and someone else bouncing ideas around. And I so like setting some time aside each day to spend on activities focused on the girls and their unique abilities! They are so easy going that it is easy to just let them go, but I'd love for them to have the same experiences I was able to afford my oldest when he was my only!
Chime in! What are your favorite early childhood type activities? Do you do them as often as you would like? You know I'd love to hear from you!
Do you have twins, are expecting twins or know someone who is? Make sure you click on over to my "Got Twins?" page and learn more about the wonders of twindom! Lots of advice and experience from pregnancy, breast feeding and beyond!
---
Related Articles