My Life With Twins: Twins and School
Welcome to My Life With Twins, a weekly blog round up of the ups and downs of raising twins and more! I try to get the post up on Mondays (but I am a twin mommy, and life comes first). Please link up a post! I keep the link active for a week. . . I know you are all just as busy as I am!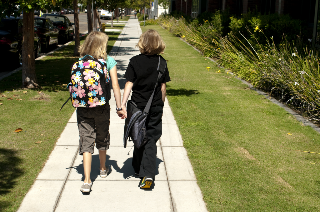 It is back to school time here at Dakotapam.com and the air is electric with excitement. The four older kids are each starting in new schools for the year and though a little nervous, they are ready for the fresh start that a new school year affords.
While our twins are too young for anything but Tot School this year, the issue of future school decisions has always been in the back of our minds ever since we learned that I was carrying twins. Twins and school can be a hot topic amongst parent and educators.
For us, the decision is pretty easy. Whether we choose to have the girls attend public school, private school or homeschool them; they will be in a class together until middle school. Locally our private school of choice is one classroom per grade, our neighborhood public school is one classroom per grade, and well. . .homeschool is one classroom for all grades!
Many school districts have a blanket policy that mandates that multiples be separated in class. While some twins and higher order multiples benefit from the time apart, many others suffer needlessly for the sake of bureaucracy.
I look forward to our girls sharing a classroom when they start school. They have been together their whole life, and really enjoy each others company. They also hail form a large family. With four older brothers, they are able to interact with other people and are not overly dependent on their twin. By the same token, I have made it a point to have the girls with other children form the time they were born. I like to think that even at 19 months, they interact well with other children. I do not think they would suffer or handicap each other socially by being together.
I also have the benefit of having a very close friend who is an identical twin. She and her sister were never separated for school. They went so far as to room together in college and join the Marine's together. They now live across the country from each other, talk and text daily, and are both living happy, married lives. I'm pretty sure that their close bond never stunted them.
As a parent, I can see how it would be easier to have twins in the same class, working on the same projects at the same time and having trips, tests etc. all on the same days. Trust me. . .with six kids, I get confused enough with scheduling my kids!
Now, contentious, or overly competitive twins would probably be best separated.
I really don't think that twins and other multiples should be discriminated against for having a close sibling bond.
Chime in! How did you make your decisions regarding twins and school? Were your twins in the same class together? For how long? Was it a positive experience? Why or Why not? You know I'd love to hear from you!
Do you have twins, are expecting twins or know someone who is? Make sure you click on over to my "Got Twins?" page and learn more about the wonders of twindom! Lots of advice and experience from pregnancy, breast feeding and beyond!


Image copyright jwblinn – Fotolia.com
---
Related Articles