Tot School:Leaves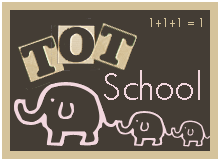 Elizabeth and Emily are 22 months old.
Although I've not recorded any of our formal Tot School Activities these past few months, we've still been busy learning and having fun! We did a pumpkin unit in October and had a lot of fun! For the Pumpkin unit we used some of the printables from Confessions of a Homeschooler  which were really adorable! I prepared the pumpkin lacing cards, and laminated them, but the girls were not quite ready yet, so I'm storing them and I hope that I remember them next year!
I decided that while we still had leaves on the ground (big brothers have been working very hard to get them cleaned up) it was a great time to do a fall leaf unit! I used the Tot Pack download from 2 Teaching Mommies . We started on the lapbook, and had some fun, but a few activities were still too difficult for my little ones. They did enjoy coloring in the Fall Colors book, and enjoyed showing it to the big brothers when they got home from school.
By far, they had the most fun with a few art projects. I picked up these large chart paper pads on clearance at Staples back in August and they have been gathering dust under my bed ever since. Since I was taking care of one of the girls' little friends on Friday, I decided to pull one of the pads out, along with some Crayola Washable crayons (best invention ever!) The three kids colored fairly happily for about 15 minutes, which is about exactly what can be expected for this age.
I also decided to try a new art project with the kids and it was a hit! I got out the orange, red and yellow Do a Dot markers and had them paint on some heavier white paper. Then I put a generous amount of Elmers School Glue into some portion cups and gave each child a cotton swab. Then I showed them how to spread the glue on some fabric fall leaves that I picked  up at the dollar store. They had a blast! I'm going to have to add gluing activities to our weekly rotation. They did a great job and once I showed them once how to spread the glue they were gluing leaves on like pros! And their finished artwork looks great in our entrance!
We've spent plenty of time with my iPad as well! Spot the Dot was still a favorite and we've spent some time each day listening and singing along with music from the Kindermusik app.
We've been enjoying If You Give A Mouse a Cookie and Brown Bear Brown Bear, What do You See? during story time.
I've left you Amazon.com links below for some of our favorite things this week. Please note that these ARE affiliate links and if you purchase from these links, I will get a small percentage in return.
---
Related Articles